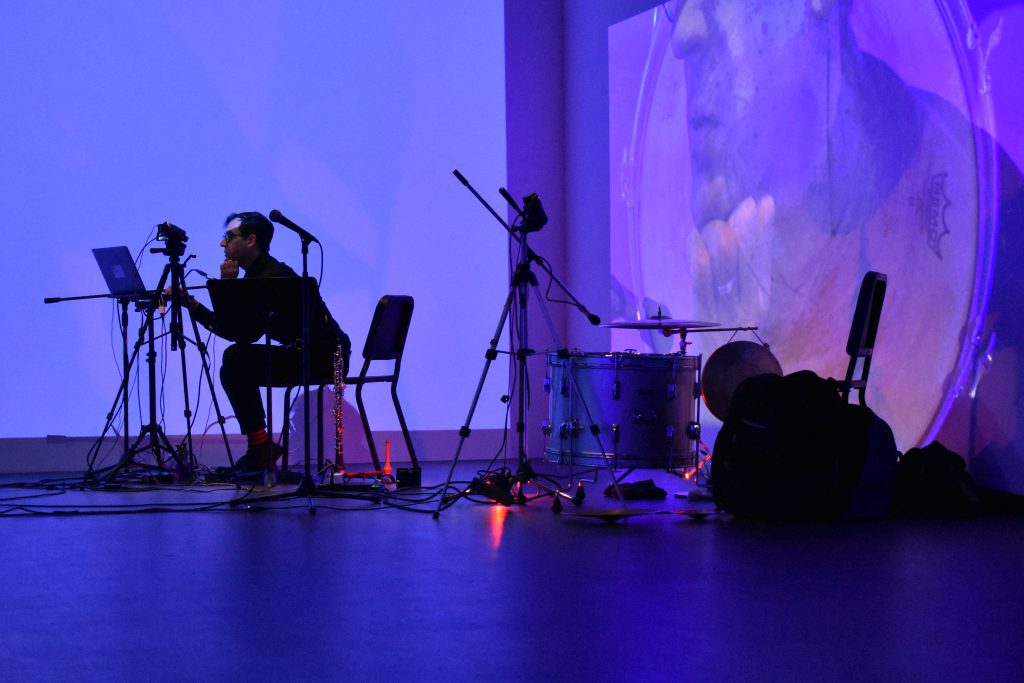 (photo credit: Bianca Griffin)
Over the years, I've developed a series of electro-acoustic pieces for 'augmented solo' performance. These can stand alone, or be presented as part of a recital including other contemporary literature for oboe and English horn. (View a sample list of available repertoire.)
Three in particular arose together as attempts to re-integrate my practices of composing, improvising, and performing contemporary 'concert music' on the oboe, which I felt had been developing along separate paths for too long. I owe thanks to Tom Djll, whose invitation to contribute to a 'solo + extensions' night at Luggage Store Gallery, San Francisco, in 2015 provided a key catalyst.
They all trouble themselves, in some way, with a fundamental crisis: how to transform a hermetic creative practice into an outward-facing product with sufficient payoff for anybody else – a thing in the world that can justify not only its own existence, but mine as an artist. Like all of life, a balancing act: between the megalomania of presuming anyone else should care about a public display of introspection, and the humility required in striving to ensure anyone could. Make it a solo composition – worse yet, exclusively for me to perform myself – and the screws tighten a couple more turns.
A Spurious Autobiography for John Barth (2015) is a framework for confronting head-on the tautological pitfalls of solo improvisation – the sneaking suspicion that, in the wake of 'developing a voice,' one's just doing the same damn things over and over again in subtly different contexts. I fed, in two separate passes, the entirety of my first solo album, entymology (2000), through the circuitry of the classic modular analog EMU synthesizer housed at UC Santa Cruz. I then placed the chopped-up results into a structure that digitally flings taunting distortions of overly familiar materials at me in unpredictable orders and combinations. The effect is one of strapping myself into a personal-hell monkey-mind batting cage for your voyeuristic amusement.
In A Fuzzy Monolith for James Turrell (2015), I was interested in dragging myself away from over-reliance on texture, timbre, and extremities of extended technique, and towards a careful attention to pitch, interval, and motive. But that's my problem. What I hope to convey to the listener is some semblance of the surprisingly moving impact that can arise from work that aims directly for a hijacking of the perceptual system. I love how Turrell's sculptures are somehow simultaneously so monumental and so tender. They require time and presence – you don't look at them, you have to inhabit them – but with patience you rather suddenly realize that the very way you're physically experiencing light has changed. Figure and ground flip; proximity and distance get mushy; you see yourself seeing.
An Extruded Introversion for Blixa Bargeld (2016) is the most recent and likely last stop along this line of inquiry. The dedication is maybe a notch more oblique than those of the other two pieces. Discovering Einstürzende Neubauten as a 14-year old marked a sort of aesthetic Year Zero for me. I could gush about all that the band meant to me at the time; what seems relevant here, though, begins with their self-immolating front man as model of "the performative body," his physicality an undeniably central component of his music. Another dimension involves the role I projected onto them as I myself began to navigate overlapping worlds of classical music, contemporary art, and rock & roll's more bastard offspring. I concluded years ago that they were the perfect heirs to German Romanticism – a logical, if grotesque, conclusion that linked them from the far side of the breaking point directly back to Weber's Der Freischütz. I began this piece with the explicit intent of maintaining more ego-less poise and equanimity than I've yet achieved elsewhere – trying to contend in my own way with the gauntlet gently proffered by the Wandelweiser collective, another form of Germanic extremism entirely – in order to make something that's unapologetically…well, beautiful. In the end, I can't deny the ghosts I see poking through the rent fabric all the same: of the histrionic, and of The Sublime's taunting brass ring.
Performed live Apr 6, 2018 at the April in Santa Cruz Festival of New Music, UCSC. Many thanks to Larry Polansky for the opportunity, and to Bill Coutler for the documentation.
An excerpt of a performance on Oct 19, 2018 at UC Davis. Many thanks to Josh Paterson, Phil Daley, and Stephen Bingen.
Maija Hynninen: Freedom from Fear (2017), for oboe and interactive electronics. Developed and recorded at CNMAT. Thanks for Jeremy Wagner for technical assistance.
Other works – by Lou Harrison, Du Yun, Wendy Reid, and Elliott Carter – from the Oct 19, 2018 UC Davis recital. With Chris Froh, percussion.
Luciano Berio – Sequenza VII (1969) oboe
Harrison Birtwistle – An Interrupted Endless Melody (1991) oboe & piano
Christopher Burns – The Mutiny of Rivers (2010) English horn & live electronics (commissioned for EKG)
Elliott Carter – A 6 Letter Letter (1996) English horn; Inner Song (1992) oboe
Chaya Czernowin – The Last Leaf (2010) oboe
Morton Feldman – Oboe and Orchestra (1976) oboe & tape (EKG's radical arrangement, w/ Ernst Karel's analog synthesizer realization of the orchestral score)
Brian Ferneyhough – Coloratura (1966) oboe & piano
Lou Harrison – Music for Remy (1998) oboe & percussion
Arthur Jarvinen – A Conspiracy of Crows (2000) oboe & tape
Mario Lavista – Marsias (1982) oboe & 8 crystal glasses
Mary Jane Leach – Xantippe's Rebuke (1993) oboe & tape
Liza Lim – Gyfu (2011) oboe, Ming Qi (2000) oboe & percussion
Olivier Messaien – Vocalise étude (1935) oboe & piano
Michael Pisaro – mind is moving (VII) (1996) oboe
Wendy Reid – tree piece #34 "frog ostinato" (1985) oboe & percussion
Du Yun – Piece for Oboe & Tam (2011) oboe & percussion