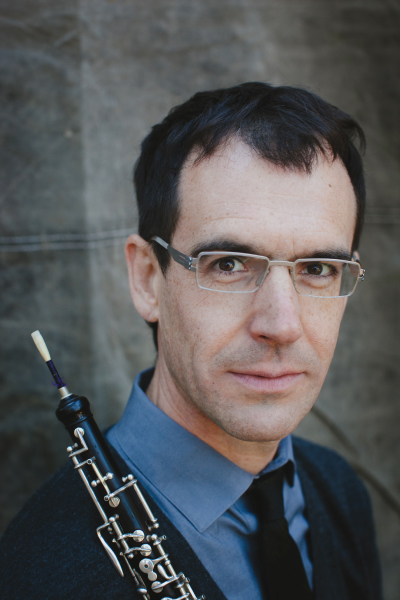 Composer/performer Kyle Bruckmann's work extends from a Western classical foundation into gray areas encompassing free jazz, electronic music and post-punk rock. A busy and varied performance schedule and appearances on more than 80 recordings have led to his recognition as "an excellent composer, striking the right balance between form and freedom" (Signal to Noise), "a modern day renaissance musician" (Dusted) and "a seasoned improviser with impressive extended technique and peculiar artistic flair" (All Music Guide).
Shortly after moving to the San Francisco Bay Area in 2003, he joined forces with acclaimed new music collective sfSound and with Quinteto Latino (a woodwind quintet specializing in Latin American composers). He is now also a member of the San Francisco Contemporary Music Players, Eco Ensemble, and Splinter Reeds. He has worked with the San Francisco Symphony and most of the area's regional orchestras while remaining active in an international community of improvisers and sound artists.
From 1996 until his westward relocation, he was a fixture in Chicago's experimental music underground, with frequent collaborators Jason Ajemian, Jim Baker, Jeb Bishop, Olivia Block, Guillermo Gregorio, Fred Lonberg-Holm, Robbie Hunsinger, Bob Marsh, Weasel Walter, and Michael Zerang. Long-term affiliations include the electro-acoustic duo EKG, the "rock" monstrosity Lozenge, and the Creative Music quintet Wrack (recipient of a 2012 Chamber Music America New Jazz Works award).
Bruckmann earned undergraduate degrees in music and psychology at Rice University in Houston, studying oboe with Robert Atherholt, serving as music director of campus radio station KTRU, and achieving academic distinction as a member of Phi Beta Kappa. He completed his Masters degree in 1996 at the University of Michigan, Ann Arbor, where he studied oboe performance with Harry Sargous and contemporary improvisation with Ed Sarath.
Bruckmann performs as a highly active collaborator and free-lancer in a variety of styles and contexts…
Bruckmann composes solo, small ensemble, and fixed media works for acoustic and electro-acoustic instrumentation…
Bruckmann currently teaches oboe at UC Santa Cruz, at UC Davis, and through his private studio…
why does he keep making those noises?
My professional life involves many roles: composer, improviser, orchestral freelancer, chamber musician, teaching artist, mercenary hired gun. Whether I'm performing a contemporary score I love or stuck in the pit of a Broadway musical, I always find fodder for a musicological mindset that drives me at least as much as concerns of craft. I'm endlessly fascinated by the social aspects of music: who makes what kinds, for whom, in what context – how we perceive it, consume it, use it to define ourselves. My creative work is spurred by these questions, and takes root in gray areas where roles, practices, and genres are most messily entangled.
My most significant touchstones are contemporary concert music, avant-jazz, and noisy post-punk rock. But I'm wary of genre, and far less wedded to style than to the productive limitations of my materials (principally oboe, English horn, and cobbled-together electronics) and to process (which foregrounds collaboration, improvisation, and a healthy dose of bricolage). I tend to think of the skills inherent to the act of playing music – attention, intention, flexibility, mindfulness – as the real compositional materials that melody, harmony, rhythm and the like are employed to realize, rather than the other way around.
I believe in the paradigm of composer/performer: my notated works are specifically designed for playing with friends, premised on maximizing creative engagement and spontaneous interaction. They're full of koan-like puzzles and procedural games; the notation is idiosyncratic and incomplete; the tasks required are often intentionally impossible to perfect. Building a degree of inevitable failure into the system ensures that the liberating energy of the 'mistake' is not only acceptable, but entirely the point.
My improvisational language and electro-acoustic work often emphasize the sensuous potential of microscopic attention to fragile, precarious, timbrally complex sound. Regardless of the setting, I'm concerned that listeners can readily get 'what's going on,' leaving them free to revel in finely nuanced and unpredictable results. Above all, I'm after music that prioritizes the real-time experiences of listening and creating for both performers and audiences.
how did it come to this?
I've been enmeshed in the DIY world of hardcore and indie-rock since my teens, even while pursuing a thorough conservatory pedigree as an orchestral oboist.  Relatively late in my schooling, I fell under the spell of avant-garde jazz and improvised music (particularly the legacy of the AACM, a grassroots organization founded in mid-1960s Chicago by African-American musicians seeking artistic freedom and collective self-determination). That discovery at last pointed me towards the pathway for reconciling my aesthetics (a love of rough edges and audacity) with training that had primarily prepared me to rehash the genius of long-dead white men for the mollification of the very rich.
In the years since, I've managed to stay deeply engaged in all three of these musical worlds, but I find the most joy in the uncertain spaces between them. The conservatory imprinted me with the mandate of an interpreter: always ready to fully, appropriately apply the mastery of my instrument to the task at hand. I keep myself entertained by following this mandate to illogical extremes, inserting the oboe into settings where it likely has no business (free jazz, metal bands, "tape music" composition) and striving to hyper-extend its technical and expressive possibilities. The breadth of experience has made me particularly attuned to the bizarre subcultural, economic and racial subtexts separating artistic traditions; but more importantly, it's sharpened my commitment to work that scrutinizes those very divisions, and seeks the deep structures unifying all music I find most resonant.